Theorie Helichrysum Nourishing Conditioner 800ml
Theorie Helichrysum Nourishing Conditioner 800ml
$39.95
Helichrysum Extract Nourishes Dry, Brittle and Over-Processed Hair The inherent benefits of helichrysum extract work powerfully in this exclusive Theorie Helichrysum Nourishing Conditioner formula that conditions, detangles and hydrates. Ideally suited to nourish dry, brittle tresses suffering from the effects of excessive heat, over-processing or environmental factors, this gentle but effective mixture deeply penetrates the hair shaft to deliver extreme moisture while leaving behind a magnificent shine. Features: ?No sodium lauryl sulfate or laureth sulphate ?No mineral oil, paraffin oil or propylene glycol ?Helichrysum and gingko biloba leaf extracts ?Safe for normal, colour and keratin treated hair
Description
Description
Helichrysum Nourishing Conditioner
Better Hair Fact
Packed with nutrients, this enriching conditioner uses Theorie's advanced oxygen-infused technology to harness the true power of Argan Oil.
Provides moisture that instantly penetrates deep down into the hair shaft, creating radiant shine and softness while strengthening your follicles. Embodied with an exclusive blend of Vitamin E, Omega 6, polyunsaturated fatty acids and silk proteins found within Argan Oil.
Features:
Nourishes and revives dull, damaged hair including split ends, frizz and dryness
Free of parabens
Safe for colour and keratin treated hair
For optimum results, use with Theorie helichrysum Shampoo
You may also like…
Sale!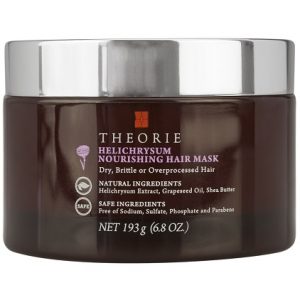 Rated 5.00 out of 5
$29.95
Sale!